A certified dreamer,
laughter enthusiast and
graphic designer.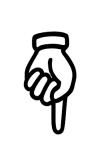 ---
Identity System/Brand Strategy/UI/UX
Electric Forest is a music festival that takes place in the beautiful Sherwood Forest in Rothbury, Michigan. The atmosphere and immersive location make it a unique festival experience that integrates music, vivid art installations, a strong community of music lovers, and nature. I'm inspired by work that generates an experience. This brand package brings you in and has you experience the beauty and magic of the festival without even being there. I created a streaming service for the festival and gave the festival a strong digital presence to keep it relevant during the COVID-19 crisis.
Full Project ︎︎︎
---
Identity System/Brand Strategy/UI/UX
EA is global leader in digital interactive entertainment. I rebranded the company with a strategy focused on revitalizing and unifying the brands identity, as well as repairing trust between EA and it's customers.
Full Project ︎︎︎
---
Mobile App Feature/Brand Identity/UI/UX/
Social Impact/Group
Through the Academy Gold program, I had the privilege of working with a team of 4 other Gold interns to create a diversity and inclusion initiative - Academy Muses. Academy Muses is a mobile feature for the Academy Museum of Motion Pictures mobile app. While visiting the museum, attendees would discover historical legacies of underrepresented communities, of above the line and below the line talent, through geolocation notifications. We pitched the project to a panel of industry executives towards receiving a mock $25,000 grant.
Full Project ︎︎︎
---
Entertainment Marketing/Campaign/Packaging
The HBO series Game of Thrones is one of my favorite shows and is one of the most iconic shows of all time. I created custom DVD packaging and a marketing campaign for the series seventh season.
Full Project ︎︎︎
---
Editorial Book Design
I've always been drawn to the feeling a neon sign gives off. Euphoric, raw, and honest. Language of Light is an exhibition that features six artists who integrate language, typography, and neon. I could not think of a more perfect place than The Museum of Neon Art in Glendale, CA, to host this exhibition. The catalog includes articles about the history of neon, the origin of neon art, and the featured works of the artists.
Full Project ︎︎︎
---
Brand Identity
Growing up in Los Angeles, I spent many weekends exploring Griffith Observatory with my family. The iconic views, engaging exhibits, and immersive shows at the Samuel Oschin Planetarium make the observatory such a historical icon of Los Angeles.
The Griffith Observatory was in desperate need of an update to its identity. I focused on updating the brand to be contemporary and inviting for all ages.
Full Project ︎︎︎
---
Ad Campaign/Social Impact/Copy Writing
2020 Census Dear Resident Campaign: Targeting Millennials and Undocumented Residents to participate in the 2020 Census. Sponsered by the City of Los Angeles and Designmatters.
Finalist in the 2020 Spark Awards Competition
Full Project ︎︎︎

---
Academy Gold 2020
Internship Enhancement Program

I was selected as one of 74 interns to participate in an exclusive film industry internship enhancement program through the Academy of Motion Pictures Arts and Sciences' Academy Gold Talent Development and Inclusion program. An eight-week summer experiential and educational program offering panels, interactive workshops, hands-on technical production workshops, access to member screening, and networking with Academy members.






---
Academy of Motion Picture Arts
and Sciences

Marketing and Communications Internship

I worked with the Marketing and Communications team and lead creatives to design promotional material, social media graphics, and presentation decks. I also gained experience working in a collaborative and remote environment.


Work Available Upon Request*




---